INTRODUCTION
Hotel Self-Check-in Machine is a truly unattended self-service hotel intelligent platform. It improves the guest experience, saves labor costs and makes the connection much closer between customers and hotels, thus improving the overall efficiency of the hotel. The hotel's smart check-in system has been successfully applied to hundreds of Chinese-style hotels and has been recognized by users.
FEATURES
- Sending and receiving room card: Distribution and recycling of hotel room cards
- Identity authentication: Authentication by ID card reading and face recognition
- Multiple payment: Code scanning payment, UnionPay payment, membership card payment
- Receipt Print: Transaction ReceiptPrint
- Advertising Play: Unified play management by network background
SPECIFICATION
No.

Category

Module

Spec.

Model: KER-DZ004A

 

 

 

LCD screen

19″ LED LCD monitor:

Display ratio: 4:3

The best resolution: 1280×1024

Viewing angle: (170°/170°)

High brightness: 300cd/m²

High contrast ratio: 5000: 1/60Hz

Service life: 50000 hours

 

 

 

 

Touch screen

Touch screen: Capacitive touch screen

Physical resolution: 4096*4096 Touch response time <3mS

Precise touch control; accuracy up to 99%, smooth writing, no disconnection and no drift

Fully physically toughened Mohs level 7 explosion-proof glass, scratch-proof, anti-collision, anti-radiation

Transmittance >85%, interface mode USB2.0

Applicable operating system Windows7VistaXP2003200098CELinux

Working temperature: -25℃ to +45℃

 

 

2

Host

 

Industrial control host

Motherboard chip: I3

Hard drive: 120G solid state drive

RAM: 4GB

Graphics card: Intel set display interface: dual-core clocked at 1.9G 15W, 8 USB 2/6 serial ports

Sound card: integrated ALC6226

Network card: onboard Gigabit network card (supports wake-on-LAN)

Speaker: 2*10W

 

 

 

3

 

 

 

Face recognition

 

 

 

camera

Binocular camera

Using 1/3″ 1.3 million high-definition image sensor, low-power products

Resolution 1280*960

S/N ratio≥39dB

Dynamic range ≥89dB

Lens: Angle of view 72 degrees

Stable working temperature 25℃-75℃, fixed 30 frames, no smear

Communication interface: USB

 

 

4

 

 

Printing

 

 

Receipt Printing

Printing method: Line thermal printing

Paper feeding method: Curve or Straight or Drop in Receiving buffer: 4KB

Printing speed (MAX) 150 mm / sec.

Paper size 82 ± 0.5 mm x dia. 254 mm max.

Print head life Mechanism: 15,000,000 lines

Thermal head: 100 km (62.14 miles)

Communication interface: USB, parallel port, 232

 

 

 

 

 

 

5

 

 

Card Dispensing

 

 

Card Dispenser

Standard 0.76mm,

thick non-embossed card loading capacity: 150 sheets

Issuing life: 1 million times

Optional: (After adding accessories to heighten the card stack, the loading capacity is: 350 sheets)

The model does not have a cycle function, and can be connected to the read-write module of the door lock manufacturer

Without card reader module

Communication method: RS232 interface

Compatible system: windows (XP.7.8.10), Linux, Android

 

 

 

6

 

Payment

Band Card Reader/

POS Machine

Need to be provided by customers

Buy in local and offer us the integration documents for intergrating software.

      7

 

 

 

password keyboard

Metal digital encryption keyboard

Input keyboard: 10 numeric keys, 6 function keys

Security features: waterproof, dust-proof, riot-proof, anti-leakage, anti-monitoring protection capabilities;

Support: RSA, DES, Triple DES, AES hardware encryption

Numeric keys and function keys can be provided with raised braille, and characters can also be customized according to requirements;

Possess the "UnionPay Card Acceptance Terminal Product Safety Certification Certificate";

Communication interface: standard RS-232

Compatible system: windows (XP.7.8.10), Linux, Android

 

 

 

 

8

 

Scanner

 

QR code

Light source type white light LED (illumination)

Scanning direction: Rotate 360°, tilt angle 65°, elevation angle 60°

Scanning speed: 30fps

Identification method: CMOS

Reading mode: Inductive reading

Resolution: 640 × 480 pix

Scanning accuracy: ≥5mil

Secondary development support

Communication interface: USB

Compatible system: windows (XP.7.8.10), Linux, Android

9
Sound
SRX712

dual combination of amplifier and sound, 2x5W speakers

10
Light control
Indicator

Indicator light control panel (communicate with computer and provide interface), there are indicator lights at the card issuance port, bank card, small ticket port, etc.

11
Chassis
Steel chassis

Made of cold-rolled steel, the surface is painted by car, the color can be customized, anti-magnetic, anti-rust and anti-static, accord with ergonomics.
ADVANTAGES
1. The hotel self-service equipment can easily complete a series of operations such as check-in, check-out, payment and renewal, helping the hotel to save costs and enhance customer experience.
2. 24 hours self-service, easy to operate, easy to query.
3. The cloud management platform has a large amount of stored data, which can protect the privacy of customers, self-organize and analyze the data reports, make the management scale, and timely understand the hotel operation status.
4. Can be paid by scanning code on Alipay or WeChat. There's no need to give change which improves the efficiency of the front desk and reduce labor costs.
ADCANCED TECHONOLOGY
1. Integrates ID card reader, IC card reader, transceiver card machine, camera and other peripheral functions. Integrates intelligent face recognition function, recognition rate up to 99%
2. Support Alipay, WeChat payment, UnionPay payment and other mainstream online payment methods.
3. Integrated mobile phone reservation system.
4. Docking hotel management system, support system smooth upgrade.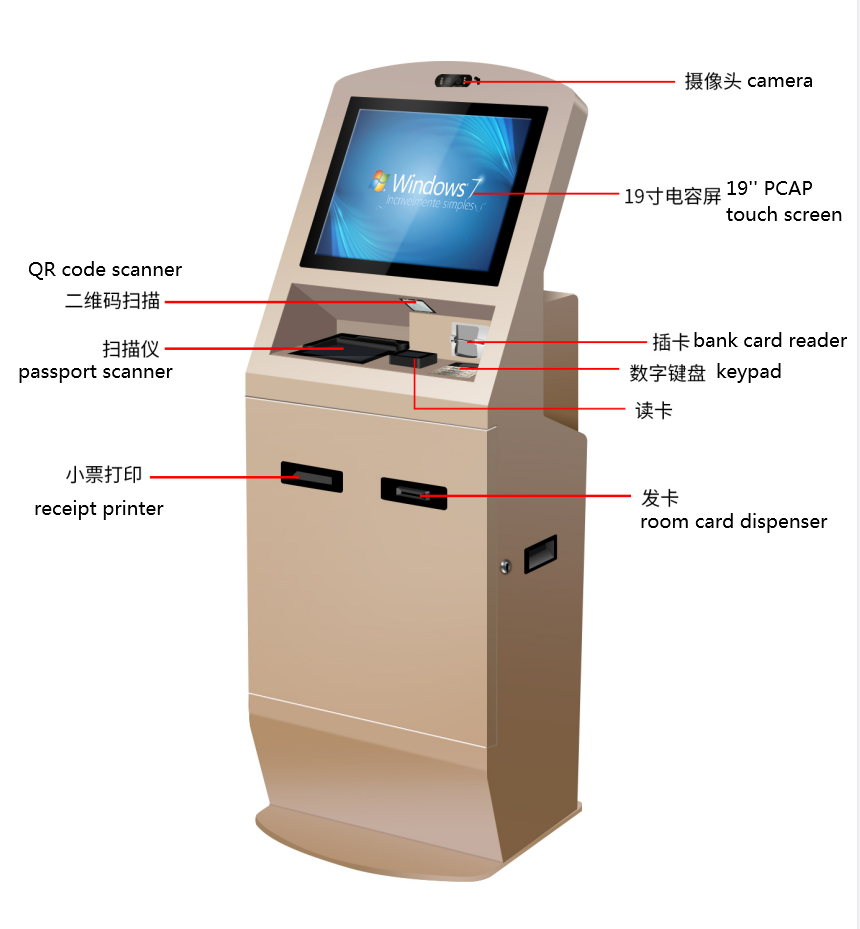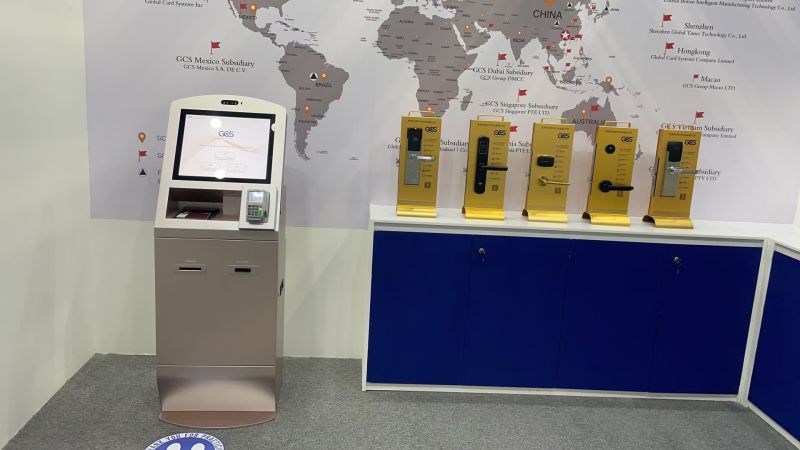 ---
Previous:
19" Wide Capacitive Touch Monitor
---