Hotel Self-Check-in Machine
Hotel Self-Check-in Machine is a truly unattended self-service hotel intelligent platform. It improves the guest experience, saves labor costs and makes the connection much closer between customers and hotels, thus improving the overall efficiency of the hotel. The hotel's smart check-in system has been successfully applied to hundreds of Chinese-style hotels and has been recognized by users.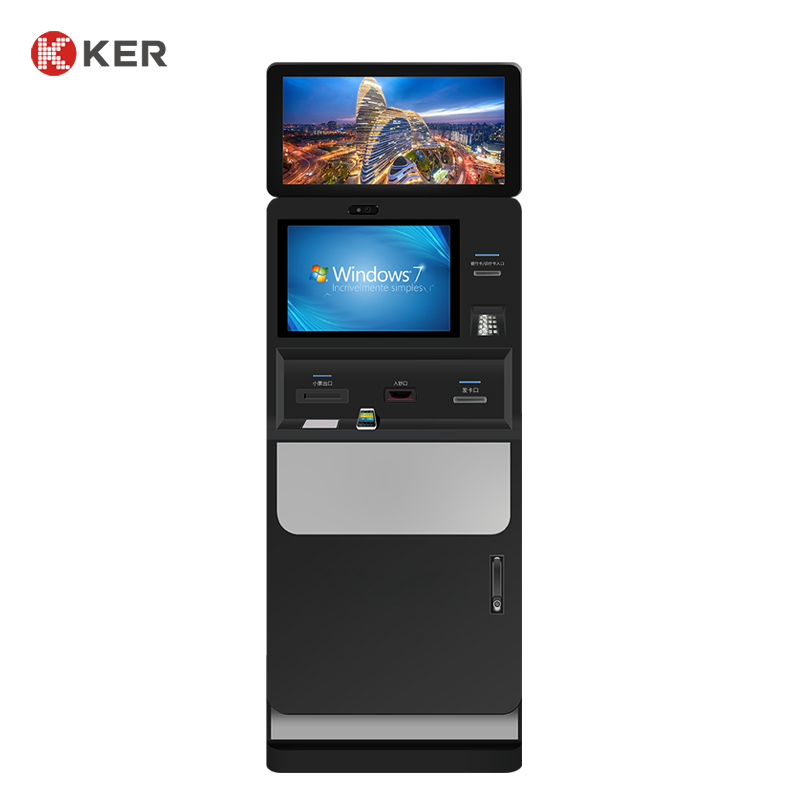 NO.
Category
Module
Specification
1

Touch Display

LED Display

19" Full HD LED LCD screen

Display Ratio: 4:3; Maximum Contrast: 3000: 1

Resolution: 1280 * 1024; Viewing angle: 170 °

Response Time: 5MS; Brightness: 300cd / m²

Signal Input: VGA or HDMI

The average life time is 100,000 hours.

Capacitive Touch Screen

19" capacitive touch screen, matching the size of the main display screen, no need for touch force.

Response Speed: 2-5ms; Light Transmittance: 95%;

Response Time: 5ms; Surface Hardness: > Mo type 7;

Resolution: 4096 * 4096; Position Accuracy: ≤2mm;

The service life is more than 10 years.

No coating on the surface, anti-violence, anti-scratch, water-proof, dust-proof. Only one calibration is needed.

2
Host
Industrial Host
I3 industrial control motherboard; Kingston 4G memory; Kingston 64G solid hard drive

(Integrated audio, network card, channel 2.0, support lvds / vga, 6 serial ports, 8 USB2.0, one network port)

3
Face Recognition
HD Camera
Industrial HD camera with face recognition and live detection.
4
Printing
Receipt Printer

Epson Thermal Receipt Printer T532

Printable width: 50mm-80mm, with automatic cutter; Can place lengthened 80mm thermal paper, support paper-lacking alarm interface.

5
Identification
OCR Passport Scanner

Wintone passport scanner

Support passport scanning, identity authentication.

6
Card Dispense and Return
Automatic dispense and receive room cards.

Model: ACT (with recycling carton)

Support automatic card dispensing. Read magnetic stripe information during card dispensing; Card size 55x86mm, card thickness 0.36 ~ 1.0mm, card case capacity 120pcs / 0.76mm standard card (maximum card capacity is 500PCS; Card dispensing speed is more than 1 / s , Double-wheel card-rubbing design effectively prevents dual-card output, recessed design, easy adjustment of card thickness, movable card box with lock, more effective improvement of security, high-strength plastic card issuing channel structure, RFID anti-interference, and flexible card reading and writing function expansion, dustproof and anti-foreign body bayonet design.

7
Finance


POS

Should be provided by customers and also customers should get the interface documents.
8
Bill Acceptor
NV Bill Acceptor
Accept all denominations but can only dispense one.
8
Sound/Lights Control
SRX712
Audio amplifier,2x5W speaker
Lights
Indicator light control board (communicating with computer and providing interface), there are indicator lights at room card dispensing, bank card, receipt slots, etc.
9

Cooling

FP20060

Quiet fan; 2 configurations, bearing structure B: BALL, black-painted aluminum alloy die-casting anti-corrosion, moisture-proof structure, flame retardant, high-precision, long life low-noise ball-bearings.
10

Casing

Toughthed Casing

Appearance: novel and attractive, seams are close and aligned with the same gap;

Material: cold-rolled steel plate, hard and thick, not easy to deform;

Surface treatment: rust-proof, anti-corrosion, wear-proof, not easy to stain and damage;

Internal structure: tidy wiring;

External structure: each component module is tightly combined with the cabinet, the layout is reasonable, the technology is sophisticated, and the internal skeleton is required to ensure the stability of the casing; the overall design is ergonomically designed, and the operation is simple and comfortable.

The thickness of the steel plate is 1.5mm and the bottom of the casing is 2.0mm. The surface of the shell is treated with metal spraying. The color and style can be customized according to requirements.

14

Software

Meet the online (mobile phone), offline (self-service machine) and manual room booking, renewal, check-out routine function operation, and related reconciliation functions, classification and summary report generation, customer information collection, etc.
Product Features

-Sending and receiving room card: Distribution and recycling of hotel room cards
-Identity authentication: Authentication by ID card reading and face recognition
-Multiple payment: Code scanning payment, UnionPay payment, membership card payment
-Receipt Print: Transaction ReceiptPrint
-Advertising Play: Unified play management by network background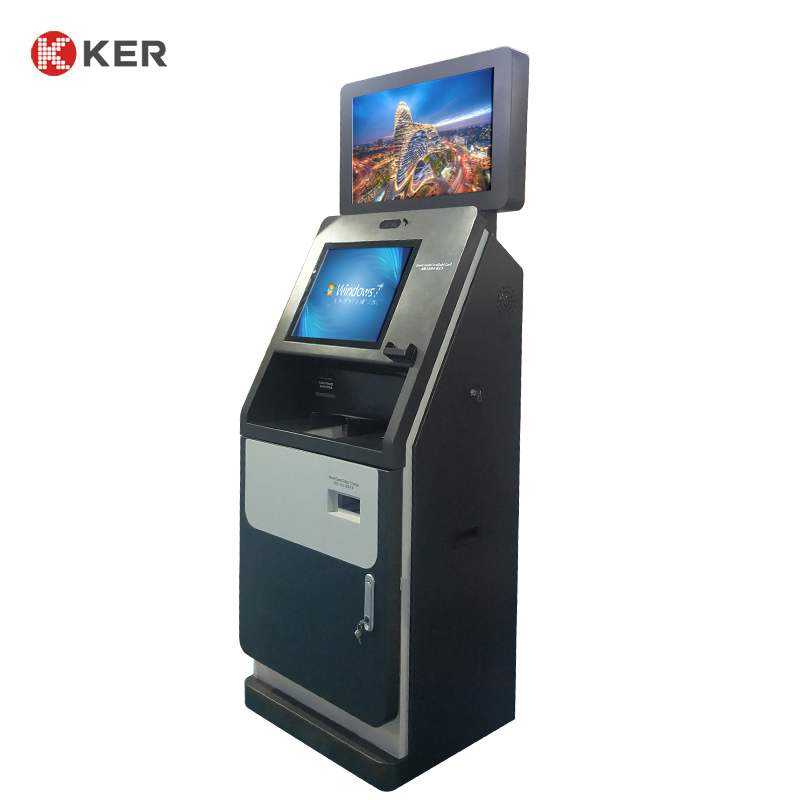 Product Advantages

1. The hotel self-service equipment can easily complete a series of operations such as check-in, check-out, payment and renewal, helping the hotel to save costs and enhance customer experience.
2. 24 hours self-service, easy to operate, easy to query.
3. The cloud management platform has a large amount of stored data, which can protect the privacy of customers, self-organize and analyze the data reports, make the management scale, and timely understand the hotel operation status.
4. Can be paid by scanning code on Alipay or WeChat. There's no need to give change which improves the efficiency of the front desk and reduce labor costs.
Advanced Technology

1. Integrates ID card reader, IC card reader, transceiver card machine, camera and other peripheral functions. Integrates intelligent face recognition function, recognition rate up to 99%
2. Support Alipay, WeChat payment, UnionPay payment and other mainstream online payment methods.
3. Integrated mobile phone reservation system.
4. Docking hotel management system, support system smooth upgrade.
---
Previous:
OEM China Dual Touch Screen Kiosk - Free Standing Windows 10 Touch Kiosk 43 Inch Digital Signage Inquiry Machine Information Kiosk – Chujie
---