INTRODUCTION
The queue number call machine is popularly called queue machine,number collect machine or number call machine,its professional name is queue management system.
It is a high-tech product which integrates computer technology, network technology, multimedia technology and communication control technology, and can effectively replace customers in queuing.
The system can automatically track the status of each service queue and adjust it. Operators can monitor and manage system status remotely. It is suitable for all kinds of window service industries. At home and abroad, it has been widely used in banks, hospitals, securities insurance companies, government service centers, public security, industrial and commercial taxation, vehicle management, Technical Supervision departments, letters and visits and other departments. Various customer service centers, 4S stores, catering, enterprise after-sales service centers and other service places.
Queuing Process
1. Ticketing: Customers take a ticket number with the number, waiting number, time, type of business, etc.
2. Rest and Wait: Hold the number ticket and rest in the rest area and pay attention to the screen speaker.
3. Keyboard Call: After a business is completed, the staff members press the next button on the caller.
4. Go ahead and do it: When calling, you can enjoy one-to-one service according to the information of the display speaker to the designated location.
FEATURES
1.Good quality and excellent after – sales service which will save cost
2.Sophisticated technology,ergonomic design and easy to use
3.Ultra clear display
4.High quality dual channel speaker
5.Stable queueing system has perspicuous interface and extensive application,suitable for everyone
6.Solid base and small space required
SPECIFICATION
Components
Specification
Computer
Industrial Mainboard: H81;
CPU: 3.2GHz, Intel Core i3
Memory: support Max 8GB 1600/1333MHz DDR3L/1.35V SDRAM;
SSD 250GB; RAM 4G;
Industrial computer cabinet with power supply;
Required ports (Serial, USB, VGA, DVI, etc.) to connect all the devices;
Two 10/100 Mbps or higher Ethernet network cards with RJ45 ports;
(More sizes and types of PC available upon request)
Monitor
TFT LCD : 15, 17 or 19 optional
Brightness: 300~1200nits
Contrast: 450:1~1000:1
Resolution:15 1024*768
17 1280*1024
19 1280*1024
More sizes between 20″~46″ upon request
Touchscreen
Capacitive Touch : 15 17 19″
Resolution : 4096*4096
(More types of touchscreen available: capacitive, resistive or IR optional)
Input Device
3DES Metal EPP : 16 keys, waterproof, dustproof, vandal proof
Speaker
Multimedia : Left-right bi-channel amplified output
Enclosure
ColdRoll Steel : Steel powdercoated front
Powercoated backcover
OS&Drivers
Windows XP+SP2 (WINCE, Linux, Unix, WIN2000) and all related drivers available
Packing
Bubble Foam, carton, wooden case
Other Optionals : UPS, Video Camera, Alarm System, Barcode Scanner,Track Ball, Photo Printer, Cash Acceptor, Card Dispenser, Check Acceptor, Infrared, Bluetooth, PSAM Card, etc.
WIRELESS QUEUE MANAGEMENT KIOSK
Deliver after installed and debugged, plug and play.
APPLICATION AREA
Strong Function, High Cost-effective
queue machine/ticket machine/business handling/touch query
INDUSTRIAL AND COMMERCIAL TAX
BANKS AND HOSPITALS
TELEOM BUSINEE HALL
ELECTRIC POWER BUREAU
COSMETOLOGY SHOP
MULTI-FUNCTION
Queuing for tickets; Personalized customization; Evaluation system; Network booking
HANDLING PROCEDURES
customer arrival→queuing for number→prompt for handling→prompt for handing→handle the business→completed the business→evaluate your satisfied degree→ customer leave
NO WIRE
HD display, multi-point touch
slot for ticket collection
cold rolling steel plate, car paint technique
streamlined design, easy to operate
-built-in wifi module, stable signal
-wireless send and receive signal
-wireless effective distance over 80 meters
-database based on oracle signal covers 2000 square meters
SUPER STRONG CPU
Use low consumption and high performance industrial motherboard, standard configuration is J1900, can upgrade to i3/i5/i7, for more details, please contact service center.
SUPPER STRONG HEAT DISSIPATION
HIGH AND LOW TEMPERATURE RESISTANT
WORKING FOR 24 HOURS
SUPER LONG TIME STANDBY
All equipment totally closed inside the all-in-one PC, touch sensing components perceive user operation across tempered glass without physical loss.
QUEUE MANAGEMENT KIOSK OPTIONS
Ticket machine+(caller+window screen+evaluator)x number of windows+general screen
Ticket Machine: put it in a bright position, where is convenient for customers to get number, only one standard kiosk is ok.
Caller: business handling window workers call customers, one caller in each window
Window Screen: use to display current calling info, standard 4 or 8 words, one screen in each window
Evaluator: use for customers to evaluate their satisfied degrees for workers
General Info Display Screen: use to display calling info in the rest area, standard 4 or 8 words
QUEUE MANAGEMENT KIOSK DETAILED INFO
Kiosk Cabinet: It adopts first-class cold-rolled steel, automobile paint, CNC processing, and has excellent workmanship. Stream linearity. Humanized design. Anti-magnetic. Anti-static and anti-rust. Built-in power strip, amplifier. Customizable like card reader with ID card, VIP card reading function, etc.
LCD Screen: 17 inch Samsung LCD screen, true colors, resolution up to 1280*1024, contrast ratio 5000:1, brightness 400md.
Touch Panel: use 17 inch IR touch panel ensure touch times over 60 millons, high precision and fast response.
Thermal Printer: Epson 532 high speed thermal printer(paper width 80mm), low noise, fast printing speed, over 80mm per second, auto cut paper, inner diameter less than 40mm, outside diameter less than 80mm.
PC Host: use industrial motherboard J1900, 2G RAM 32G SSD, durable, low consumption, super stability.
Voice System: Configured with amplifier and sound system. A variety of sound formats can be provided for the prompt sound, also can connect outside speaker(wireless amplifier optional)
Software For Control The Queue Management System: Can meet different needs of queue management, customizable business, window ticketing interface, voice. It meets several call requirements such as direct call, special call, second call, call transfer etc. It is simple to operate.
WIRELESS CALLER
19 functional keys, double-line LCD display, with software settings, adjustable address and communiation rate, buzzer, can be controlled by software, the keyboard has a monochrome LCD screen, showing the current business customer number, and how many people are queuing and other information. Built-in wireless receiver connectable evaluator(one per window)
WIRELESS EVALUATOR
1. Use broadcasting level voice
2. Support up to 4 evaluator keys, address range 1-99
3. Address, wireless channel, voice volumn can be set up via evaluation keys, and have voice tips, no need setting with disassembling
4. Voice volumn is bigger 50% than other brand evaluators
5. Interfaces support wireless/48 Bus/USB communication
WINDOW DISPLAY SCREEN
Various types of display screens can be customized according to the needs of users. The number of words in the window screen is usually four-character, five-caracter, eight-character. Optional wall hanging installation, ceiling installation, embedded installation.(usually one screen per window)ø3.75 or ø5.0 LED dot, matrix module, monochrome or dual color(optional), black aluminum alloy frame(built-in wireless receiver module) 
Four-character LED Size:
ø5: 51.8×15.2 cm
ø3.75: 33.4×10.6 cm
Eight-character LED Size:
ø5: 100.6×15.2 cm
ø3.75: 63.8×10.6 cm
GENERAL INFO DISPLAY PANEL
1. System supports multi-area independent display, can store display data of 3 independent areas
2. Support single or double color, data polarity inversion
3. Simultaneously support RS485 and RF wireless communication
4. Support screen specifications double color 128*320 dots and single color 256*320 dots
5. Support insert control command in display contents, control display modes
6. Multiple display modes
7. Support indor 3.0, 3.75, 5.0
WIRELESS MODULE
1. ISM band wireless communication, USB communication interface virtual serial communication, support XP and Windows7 communication frequency 430-500 Mhz, transmission power 10dBm, frequency error<5 ppm, annual aging rate <5 ppm.
2. Outdoor open ground visual distance communication distance is 200 meters, indoor communication distance varies from 50 meters to 150 meters according to the field environment.
3. The communication controller is powered by the USB port of the computer. The current is less than 400mA. The data from an external power supply USB port to the wireless port is transparent transmission, that is, the data sent and received. The user does not need to care about the date transmission and error correction processing of the wireless bottom layer, so that the user can use his own convenience. Communication protocols and networking.
SUCCESSFUL CASES
KER Is Anywhere
Our queue management kiosk has been widely using in all walks of life, including government and enterprises and institutions, banks, and hospitals, industrial and commercial tax bureau, telecom service hall, beauty treatment, etc.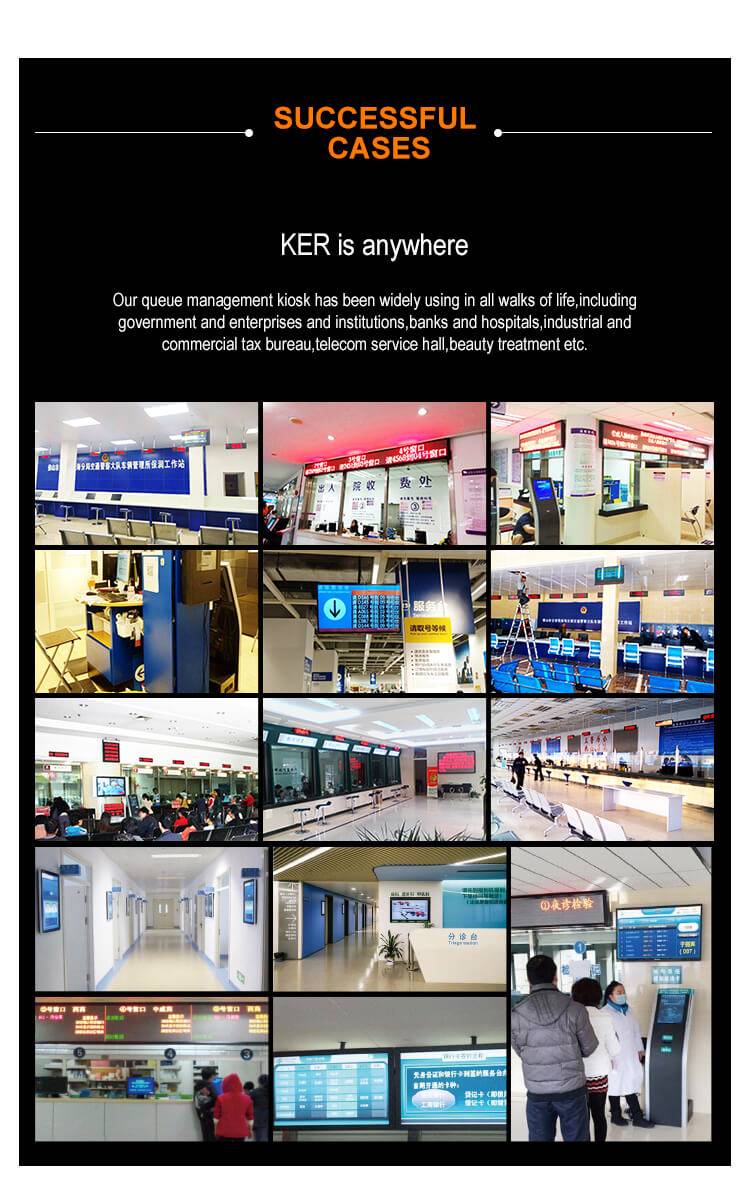 ---
---