Vertical Advertising Machine
Vertical Advertising Machine is a brand-new media concept, which refers to the multimedia professional audio-visual system that publishes commercial, financial and entertainment information through large screen terminal display equipment in large shopping malls, supermarkets, Hotel lobbies, restaurants, cinemas and other public places where crowds converge.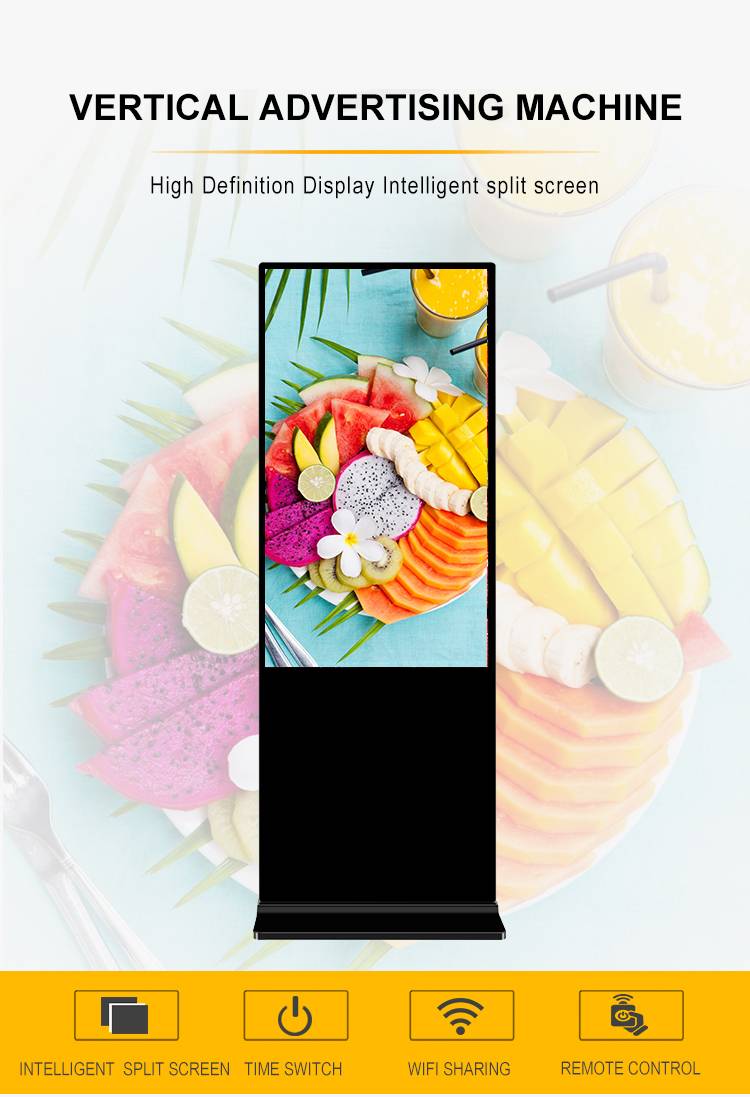 Functional Characteristics
Fashionable and beautiful appearance design, tempered glass mirror, aluminum profile frame.
Low power consumption, super long time stable operation, wide angle of view, high brightness industrial LCD screen.
Supports 7*24-hour operation, making it easier for you to manage.
Supports full HD 1920*1080P video playback and flash animation playback, compatible with mainstream video formats.
Free screen splitting, video, pictures, text synchronization; Timing switch; Real-time insertion.
Plug-in and Play applications, according to user needs, select the stand-alone version, network version.
The network updates the playlist, which can connect multiple terminal devices and be controlled by the central server.
Achieving value-added operation through advertising and information release.
PRODUCT EXHIBITION
High-definition bright screen, flat and ultra-thin
explosion-proof and scratch-proof, 3C certification
Color restoration, high-end configuration
One-year quality assurance, Lifelong Maintenance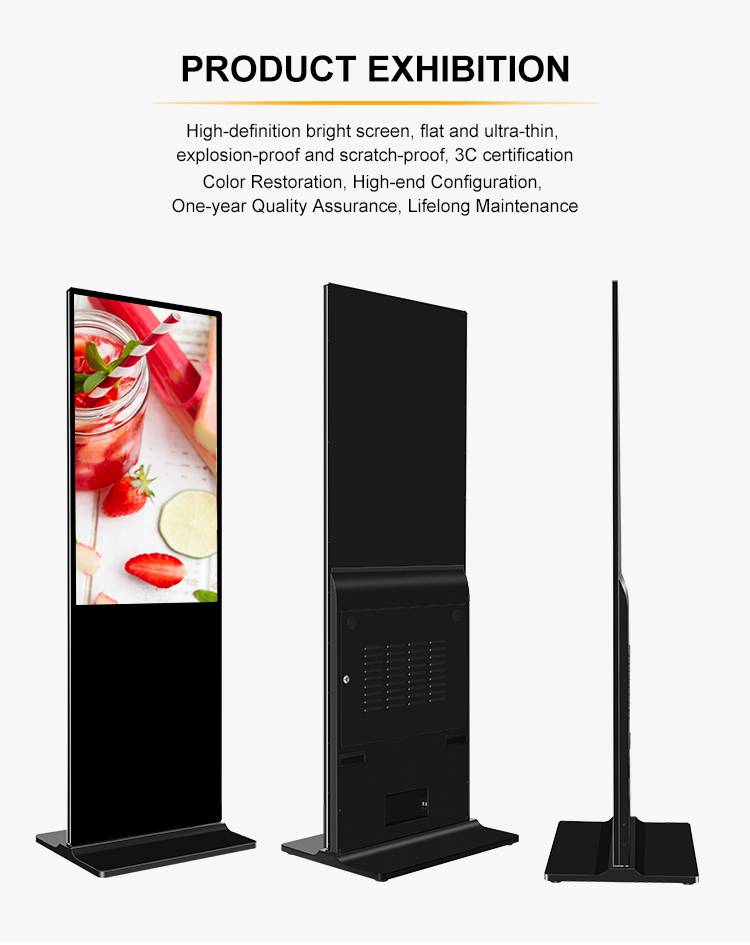 MORE DETAILS
-Pure Flat, Super Thin And Natural
Touch, display and PC are all in one, pure flat and thin design, concise and delicate without losing the high-end atmosphere.
-Setting Reasonable Life Longer
Reasonable setting, good heat dissipation
performance, longer life and durable,
can work 24 hours uninterruptedly
-Exquisite Craftmanship Materials, Last For Long Time
Aluminum alloy frame has undergone 22 processes,
such as polishing, oxidation, sand blasting and fixing,
so that it will remain unchanged and life like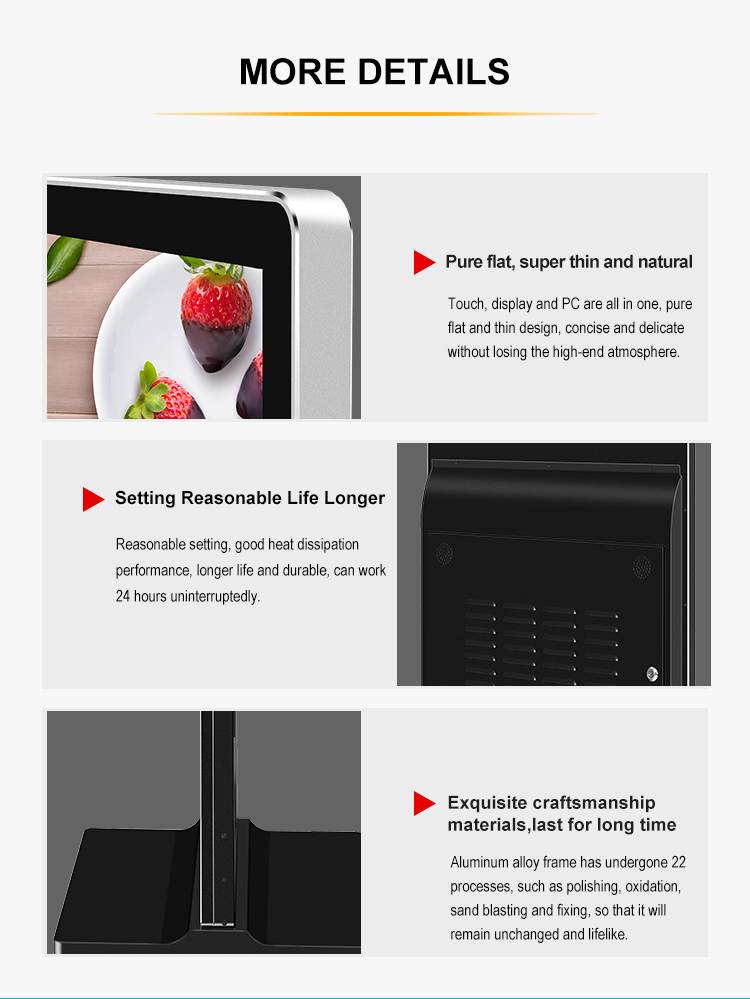 1080P HD DISPLAY
1080P HD resolution, High Definition Visual Experience With Excellent Colors
Samsung/LG original hard screen, high-definition resolution, delicate picture quallity, smooth video picture playback.
Long life, rich color, clear and vivid picture quality, distinct layers, beyond your imagination of visual experience.
TRIPLE PROTECTION AGAINST FATIGUE
High precision, anti-interference, not dazzling
Transmittance 98%
Scratch resistance, heat resistance, cold resistance, impact resistance
Application area
Public places: subway, airport, bookstore, park, exhibition hall, gymnasium, museum, conference center, ticket sales agent, fixed talent market, lottery center, etc.
Entertainment and leisure: cinemas, gyms, resorts, clubs, foot baths, bars, Internet cafes, beauty salons, golf courses, etc.
Financial institutions: banks, securities, funds, insurance companies, pawnbrokers, etc.
Commercial organizations: large shopping malls, franchise chains, supermarkets, monopoly stores, star-rated hotels, hotels, travel agencies, pharmacies, etc.
Public utilities: hospitals, schools, telecommunications, post offices, etc.Real Estate Property: Apartments, villas, office buildings, business buildings, model houses, sales offices, etc.
Specification 
LCD parameters and more

Display ratio: 

16:9

Casing materials

: T

empered glass plus aluminum alloy frame

Resolution:

1920*1080

Interface: 

USB/SD

Viewing Angle

:

(170°/170°)

Lamp Life:

 A

bout 60k hours

High Lightness: 

350cd/m²

Color

(chromatic number)

:

16.7M

High Contrast Ratio

:

50001/60Hz

Voltage:

220-260V

Lifespan: 

50k Hours

Packing

: C

arton+Foam+Wooden Frame

Standard PC configuration:

Android ZC-83A(2+8),If need other configurations,please contact Customer service!
---
Previous:
Next:
Capacitive touchscreen
---