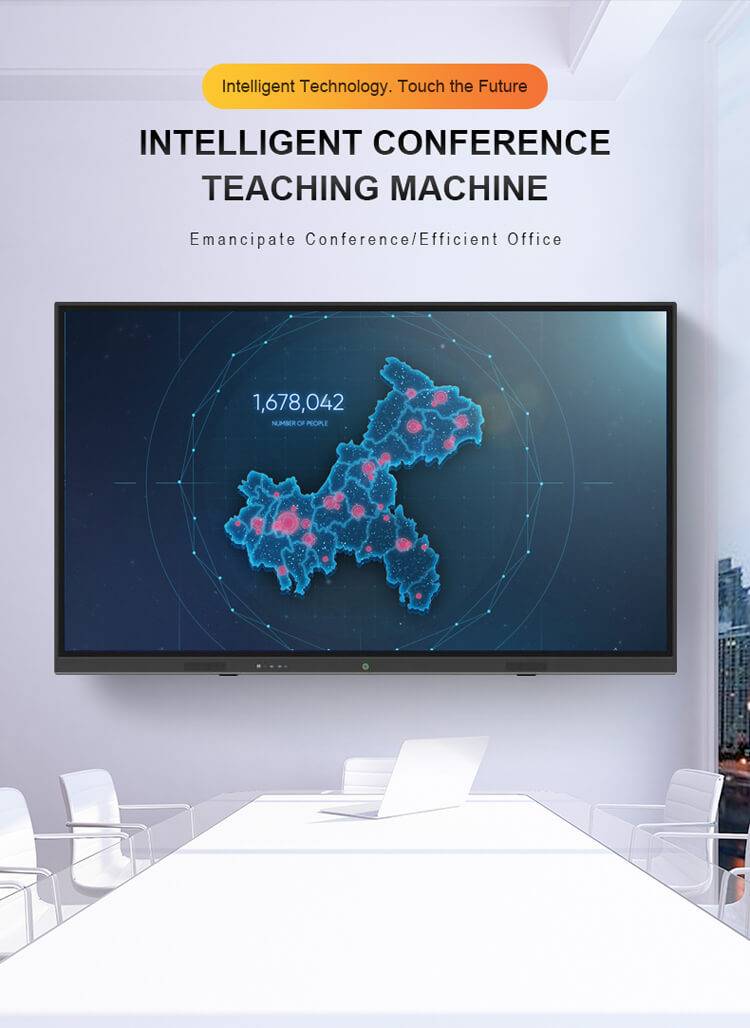 Multimedia conference/teaching integrated machine is a transmission platform which integrates the functions of high definition image display, touch writing, conference background board, wireless screen, multi-screen interaction, compatible with third-party conference software and hardware and rich peripheral software products. The brand-new intelligent interactive experience and application display has realized diversification, information-based knowledge dissemination and sharing, and helped the conference/teaching become coherent and smooth. In the future, we will continue to provide customers with high-quality and efficient educational products and services, and build an efficient professional conference platform.
Product characteristics:
1. Beautiful appearance, all-metal solid fuselage, physical toughened explosion-proof glass panel
2. Infrared Optical Touch Man-machine Interaction, Support 32-point Touch Recognition, Support Anti-occlusion Function
3. Powerful hardware performance, compatible with Windows and Android dual-system operation, can switch arbitrarily at any interface.
4. Import 4-color 4K LCD screen, four sets of pre-speakers, convenient pre-input interface.
5. Efficient and easy-to-use whiteboard teaching software, eight kinds of note-writing effect, full-screen one-click recording, easy to produce teaching videos.
6. According to the teaching requirements of different teaching objects, we have collected rich teaching resources of top 100 schools for your needs.
7. Multi-screen interactive interface, document sharing, gesture mouse operation, mobile screen mirror projection to the conference board, bringing a pleasant large-screen game experience and business display scenes.
8. Wireless screens are equipped with instant-on-demand video-sharing handles, which make it easy to wirelessly screen the contents of desktop computer pictures to the conference tablet screen for mutual annotation and other manipulations.
9. Intelligent classroom solutions, combined with a variety of practical teaching tools, achieve two-way and efficient interactive teaching in one cloud. Language disciplines support "point-to-point reading" and pronunciation evaluation, and can more comprehensive home-school interaction, student filing, and record the growth process bit by bit.
INTELLIGENT CONFERENCE PANEL
The choice of intelligent conference for excellent office.
COMPUTERS; TABLETS; WHITEBOARDS; PROJECTORS; CURTAINS; AUDIO
Teaching According To One's Aptitude. Easy And Interesting.
Various types of teaching resources make classroom interaction no longer tedious.
Uper-clear anti-glare screen; Multi-screen interaction; High-definition writing; Surging performance.
WIRELESS SCREEN PROJECTION FILE TRANSFER
Built-in wifi enables the client to operate teh demonstration on the screen by multiple people at the same time, convenient for the discussion and communication of meetings. Screen demonstration by scanning QR code by single screen projection.
One-click remote file transfer, no need for data line or U disk, save time.
SMART WHITEBOARD
Writing, marking, finger erasing, many tools in whiteboard toolbar, background color, brush color, brush strokes, many kinds can be replaced.
Writing Annotations; Fast Erasion; Wireless Screen Projection And Simultaneous Screen Interaction
STRONG DUAL SYSTEM
Fast Switching, Carrying More Applications
OS optional: windows7/windows8/windows10/Android
Touch query, teaching whiteboard, electronic book
4K HD ANTI-GLARE
HIGH DEFINITION DISPLAY AMAZING PICTURE QUALITY
Restore every pixel for you, enjoy intelligently, blossom big screen, and make life brilliant.
Bigger vision, bring better immersion experience. Superb anti-glare technology is used to ensure clear display of screen content in bright environment.
4K-Super clear anti-glare screen
Optional size-55~100 inches
PRODUCT DETAILS
Delicated Craftsmanship, KER Professionally Make For You.
Industrial grade aluminum alloy, after wire drawing treatment, durable, rust-prood and antistatic.
The body is made of black cold rolled steel, which has good anti-rust and anti-static effect and good heat dissipation performance.
OPS industrial computer, low power consumption motherboard, low heat volumn.
Suppory long-term uninterrupted operation.
Specification parameter
Display system performance parameters

Screen size

55inch

65inch

70inch

75inch

86inch

100inch

backlight

ELED

DLED

ELED

Display size

(mm)

1210(H)*

680(V)

1430(H)x

804(V)

1535(H)x

864(V)

1646(H)x

924(V)

1895(H)x

1066(V)

2213(H)x

1245(V)

Physical Resolution

2K(single system 1920*1080) or 4K

4K(3840×2160)

Peak Brightness

250cd/m2

350cd/m2

350cd/m2

480cd/m2

350cd/m2

450cd/m2

Contrast ratio

3000:1

5000:1

Viewing angel

H/ V:178/178度

Display ratio

16:9

Display color

10Bit,16.7M

Backlight life

≥50 thousand hours

touch control system

Touch Recognition

Built-in infrared optical touch recognition (up to 20 continuous input points)

Effective recognition range

Fingers, touch pens or other opaque objects 3-8 mm in diameter (multi-point 8 mm)

positioning accuracy

±2mm(90% above touch area)

responding time

At most 8ms(Cursor speed is about 120 points/s)

Touch resolution

H:32767   V:32767

Touch lifespan

≥800 thousand hours

Android system hardware configuration

main chip model

MSD6A638JSMG

(CPU)

ARM  Cortex A53  dual-core  1.3GHz

(CPU)

Mali T720

(RAM)

1GB DDR3

(ROM)

4GB

inner core version

Android 5.1 or above

External extension storage

SD/TF Card interface max support 128GB,USB2.0/3.0 interface max support 1TB

OPS optional modules hardwares configuration

options

standard

professional

flagship

CPU

Intel Core i3

Intel Core i5

Intel Core i7

chipset

NM76-2310/H81-4130

NM70-2450/H81-4460

OPS-I7A4 I7 4790

RAM

4G DDR3

inner storage

Standard 120GB SSD(optional 500GB 2.5 inch mechanical hard disk *)

GPU

Intel core graphics card HD Graphics

Core graphics card or select independent graphics card *

OPS

OPS Module Interface Configuration

default standard

engineering customized

(1)USB2.0 x3(Including front 1x Touch)

(2)USB3.0 x3(Including front 1)

(3)RJ45 Ethernet  x1

(4)HDMI(1.4a )x1

(5)MIC  x1

(6)AUDIO LINE x1

(7)VGA x1

(8)Wi-FI x1(support IEEE802.11b/g/n)

(1)USB2.0 x5(Including front 1)

(2)USB3.0 x3(Including front 1)

(3)RJ45 Ethernet x2

(4)COM debug DB9 male x1

(5)Display port(4K) x1

(6)HDMI(4K) x1

(7)MIC  x1

(8)AUDIO LINE  x1.

(9)VGA x1

(10)WI-Fi x1(support IEEE802.11b/g/n)
---
Previous:
Vertical Advertising Machine
Next:
Industrial All-in-one PC
---