INTRODUCTION
The touch all-in-one machine is composed of advanced touch screen, motherboard, memory, hard disk, graphics card and other electronic components, which is the same as the working principle of traditional PC. According to the size of the touch screen and with software, it can realize public information query, advertisement display, media interaction, conference content display, offline experience store product display, etc., such as fingerprint scanner, scanner, card reader, micro printer, etc. Designed to meet specific requirements such as fingerprint attendance, card swiping, and printing. Generally different from electronic whiteboards, it has more functions.
FUNCTIONAL CHARACTERISTIC
Touch control query
This is the most popular point of touch self-service inquiry machine. Like mobile phones, users query and read public information through touch screen, and the style of inquiry page follows the principle of neatness and tidiness. The whole query system interface also makes full use of modern multimedia technology, with rich pictures and texts. Beautiful background music and dynamic picture effects can bring users both visual and auditory enjoyment.
User Role Management
Users can directly implement the role management of administrators and ordinary users on the touch screen. That is, administrators can edit, modify all page files and update all query machines in real time. Ordinary users can only modify the content within the authorized scope after authorization.
LAN Sharing
Some self-service inquiry machine page file content can be shared through the LAN to complete self-printing. For example, in banks, users can use ID cards and bank cards to self-help inquiry machine to print pipelining accounts, swipe cards, report printing, payment, which greatly reduces the burden of staff.
Update of query content
Self-service query machine is divided into local update and remote update. Local update is the content of our tax office to update; remote update is the user can use the console to update all query machine content uniformly and remotely.
Beautiful appearance
Self-service inquiry machine often uses surface acoustic wave screen, anti-scratch, less reflection, fast sliding screen, long life is its advantages, secondly, streamlined appearance also has a very good affinity and sense of the times.
 SPECIFICATION
Powerful industrial PC+Grade A+ LCD display+Infrared touch screen+ New design enclosure
Basic Configuration of 19″ touch kiosk
Components
Specificatio
Computer
a. CPU: Intel J1900 CPUb. Hard disk: Seagate 500Gc. RAM: KingMAX 4GB

d. Ports: USB ports, RS-232 ports

e. Industrial mainboard

Monitor
LCD: 19″ (Brand and size are optional)
Touchscreen
Infrared touch screen
printer
Thermal printer M-T532 80mm paper width, auto cutting
Multimedia System
Amplifier system, stereo Loudspeaker, magnetic proof
Network connection
RJ45 connector and inner network connection/ wireless network card
Power supply
AC 110V-240V, 50-60Hz (customized)
Enclosure
1.2mm~1.5mm Cold roll steel
Color
Paint color you required and silk print your logo
Packing
Wooden case, Bubble Foam
EVERY DETAIL IS A WORK OF SINCERITY
factory direct sales
10-year precipitation
responsable maintenance
10 points touch control
wireless interactive
intelligent high definition
ultra high brightness
fast heat dissipation
01 HIGH DEFINITION DISPLAY
1080P HD DISPLAY
The pixel density is beyond imagination, rich in color, fine in quality, and real in presenting meticulous details, bringing you to experience the feeling of being on the scene.
Display Brightness- 350CD
Color Depth- 16.8M
Contrast Ratio- 3000:1
Wide View Angle- 178°
02 EASY TO SPLIT SCREEN
One Key To Split Screen; Multi-times Show
Several simple steps for remote control, easy to split screen, video and photo can be displayed in multi-windows simultaneously.
03 ULTRA WIDE VIEW ANGLE
178-DEGRESS WIDE PERSPECTIVE OF ERGONOMIC DESIGN
The picture is true and not distorted. It can get a better bisual experience. 178° wide perspective can enjoy the same effect from different perspectives.
Ultra-large field of vision, the proportion of ultra-high screen.
04 RICH INTERFACES
RICH INTERFACES MEET YOUR NEEDS FOR DIFFERENT USE
-USB interface
-SD card
-Internet
(Other interfaces like HDMI, VGA, audio output can be customized, please contact service center if you need)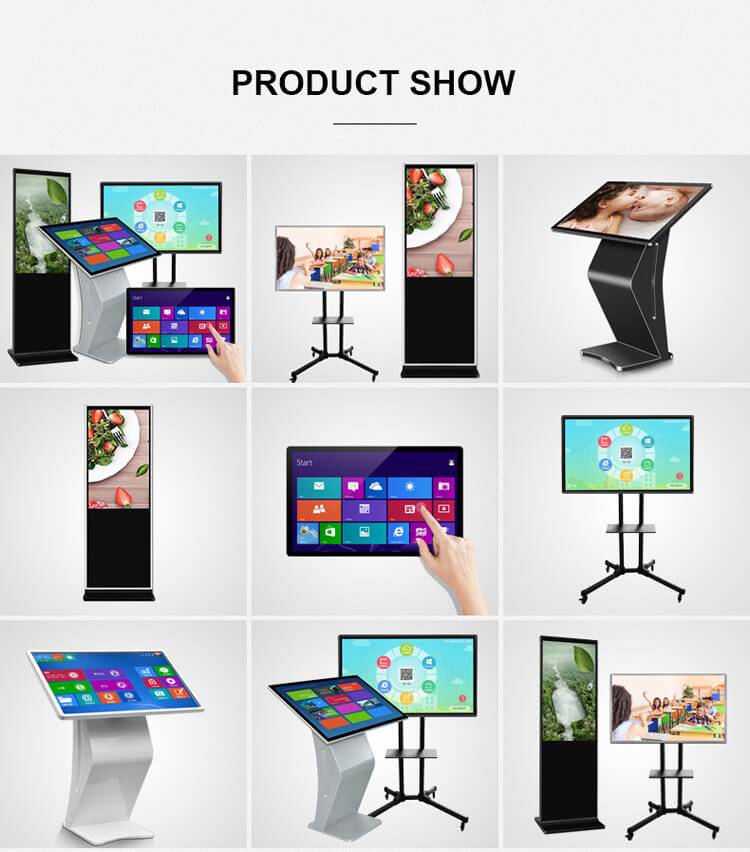 ---
Next:
KER-T001A 17inch Information Inquiry Touch Screen Kiosk With Stainless Steel Keyboard With Tracking Pad
---