Touch query machine is one of the most convenient, simple, natural and practical human-computer interaction equipment, which is gradually used in all aspects of our daily life. Such as business hall, postal business hall, tax collection hall, city street (city information inquiry), office building, airport, station, bank, museum, library, exhibition, hospital, Hotel and many other occasions.
It combines computer technology, multimedia technology, audio technology, network technology, industrial plastic arts, machinery manufacturing technology, streamlined integrated design, beautiful shape. It has been widely used because of its high cost performance, customized design and strong environmental adaptability.
Functional characteristic
Touch control query
This is the most popular point of touch self-service inquiry machine. Like mobile phones, users query and read public information through touch screen, and the style of inquiry page follows the principle of neatness and tidiness. The whole query system interface also makes full use of modern multimedia technology, with rich pictures and texts. Beautiful background music and dynamic picture effects can bring users both visual and auditory enjoyment.
User Role Management
Users can directly implement the role management of administrators and ordinary users on the touch screen. That is, administrators can edit, modify all page files and update all query machines in real time. Ordinary users can only modify the content within the authorized scope after authorization.
LAN Sharing
Some self-service inquiry machine page file content can be shared through the LAN to complete self-printing. For example, in banks, users can use ID cards and bank cards to self-help inquiry machine to print pipelining accounts, swipe cards, report printing, payment, which greatly reduces the burden of staff.
Update of query content
Self-service query machine is divided into local update and remote update. Local update is the content of our tax office to update; remote update is the user can use the console to update all query machine content uniformly and remotely.
Beautiful appearance
Self-service inquiry machine often uses surface acoustic wave screen, anti-scratch, less reflection, fast sliding screen, long life is its advantages, secondly, streamlined appearance also has a very good affinity and sense of the times.
EVERY DETAIL IS A WORK OF SINCERITY
factory direct sales
10-year precipitation
responsable maintenance
10 points touch control
wireless interactive
intelligent high definition
ultra high brightness
fast heat dissipation
01 HIGH DEFINITION DISPLAY
1080P HD DISPLAY
The pixel density is beyond imagination, rich in color, fine in quality, and real in presenting meticulous details, bringing you to experience the feeling of being on the scene.
Display Brightness- 350CD
Color Depth- 16.8M
Contrast Ratio- 3000:1
Wide View Angle- 178°
02 EASY TO SPLIT SCREEN
One Key To Split Screen; Multi-times Show
Several simple steps for remote control, easy to split screen, video and photo can be displayed in multi-windows simultaneously.
03 ULTRA WIDE VIEW ANGLE
178-DEGRESS WIDE PERSPECTIVE OF ERGONOMIC DESIGN
The picture is true and not distorted. It can get a better bisual experience. 178° wide perspective can enjoy the same effect from different perspectives.
Ultra-large field of vision, the proportion of ultra-high screen.
04 RICH INTERFACES
RICH INTERFACES MEET YOUR NEEDS FOR DIFFERENT USE
-USB interface
-SD card
-Internet
(Other interfaces like HDMI, VGA, audio output can be customized, please contact service center if you need)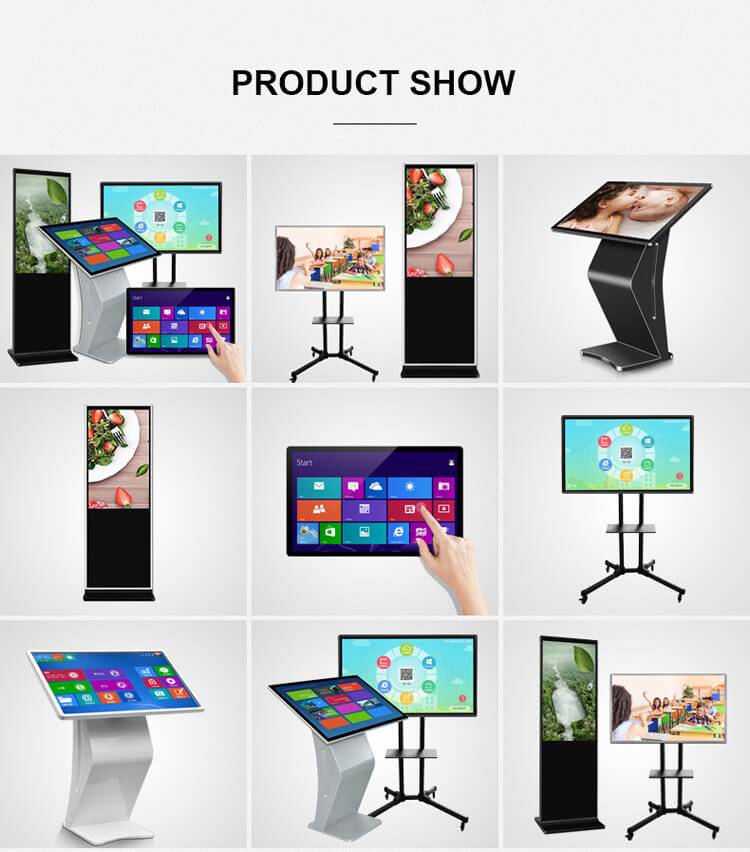 configuration parameters
Configuration can be customized as you like, price please consult Wangwang Customer Service
| | |
| --- | --- |
| KER touch query kiosk |   |
| Brand model | KER-TE01W(optional) |
| Display ratio | 16 : 9 wide screen |
| OS | Win7\ Win8 \Liunx\Android |
| monitor | Industrial LCD disply(1920*1080) |
| Case material | First-class cold-rolled steel plate, automobile paint |
| Touch panel | CVT multi-point IR touch panel |
| colors | white/black/silver(customizable) |
| PC | Industrial PC |
| appearance | customizable |
| PC configuration |   |
| standard | Intel quad core J1900.RAM 2G,64G  SSD or 500G HDD |
| Option 1 | Intel quad core J1900. RAM 4G,64G  SSD or 500G HDD |
| Option 2  | Intel Core I3,RAM 4G,64G  SSD or 500G HDD |
| Option 3   | Intel Core I5,RAM 4G,64G  SSD or 500G HDD |
| Option 4 | Intel Core I7,RAM 8G,128G  SSD or 500G HDD |
IR touch panel(use true 6-point IR anti-riot touch panel,4-point,6-point,10-point optional, Prices need to be calculated separately)
Touch panel

Real six-point infrared touch screen, with dust-proof, waterproof, scratch-proof characteristics, use

Long life, high accuracy, fast reaction speed with transmittance > 98%, resolution 4096*4096,

Single point makes life more than 60 million times.

 

Product size

22″32″42″52″55″65″ etc, Special specifications can be customized

Transmittance

>92%,up to 100%

Touch resolution

4096*4096

Scanning rate

≥5scans/s

Touch body

>2mm(Rad.)

Responde speed

≥8ms

Durability

> Bearing more than 60 million single touch times

Working voltage

DC 5V

Power supply way

USB interface or external 5V power supply

Power consumption

Below 32〞≤0.52W, above 32〞but below 63〞≤1W

OS available

Win7\ Win8 \Liunx\Android

Communication way

RS-232or USB interface

temperature

working:-30℃to55℃  storage:-30℃to55℃

Life span

More than 10 years
LED LCD panel (LCD Display with Full HD Samsung/LG Perfect Screen)

monitor: New LG full-high definition (1920*1080) industrial LCD screen with contrast:5000:1,

brightness:400md   reaction time:<4MS

resolution

Full HD 1920X1080

brightness

400cd/m2

aspect ratio

16:9

Contrast ratio

1000:1

Pixel pitch

0.2mm

response time

5.5(gray to gray)

frequency

60Hz

Power consumption

245W

Display colors

16.7M(10 bit)

Working voltage

12V

Viewing angle

178/178(H/V)

weight

50KG-90KG

light source

CCFL

Power supply

voltage:AC220V ±10% 50HZ ±1HZ    power:<200W Instantaneous current of start-up 3A

interfaces

With power switch key, network interface, USB interface, reserved wiring port.

Power Switch, Volume Tuning of (Host, Display, Audio, Fan)

Loudspeaker box

Dual channel and stereo surround power amplifier system are adopted. Power: 2x 5W Frequency Response: 20Hz~20KHz

Working environment

temperature:-10℃~+45℃  humidity:40%~80%(Relatively, non-decompression)

Internet port

RJ45 or RJ11

Physical size

Height 1150mm X width 1036mm X depth 620mm 
---
Previous:
Embedded Touch Display
Next:
Smart touch table
---