Smart touch table allows you to experience high-tech home life from the future. It brings together practicality, interaction and entertainment. This is a multimedia center and information platform, which combines graphics and text, and interactive video and audio. Just touch it lightly, and immediately feel different from the past. The display content is horizontal and vertical. No matter where you touch it, you can realize the human-computer interaction experience. Extensibility is excellent, it can realize multimedia playback, photo display, multi-player interactive games and so on.
Touch table has following functions:
1. Screen is paralleled to the table surface,no longer face to face with the users.Many persons can watch from different angles at the same time.
2. No mouse,but can freely realize functions like zoom in,zoom out, rotate,drag,several persons can operation desktop at the same time.
3. Uniqueness,the use of big screen touch table subvert traditional table form,can be widely used in carteen tables,games platforms,intelligent teaching,entertainment scenes,cinemas,airports,TV stations, Museum etc.
4. Multi-point touch, make Immersion Hybrid Reality Information Influenza Officer Experience Effect as well as real time interactive manipulation.
5. Besides it meets all functions that ordinary tea table or canteen table contains,it can put items on its surface as you like,meanwhile,it has characteristics of water-proof,pollution-proof,anti-explosion,high-temperature resistant,hard and durable.
6. It can integrated many industries and entertainment softwares,also has entertainment and commercial communication functions,be widely used as KTV songs,catering order system,real estate buildings show,Telecom/Mobile/Banks self-service affairs,cars pre-selling show, Wedding Photo Show,scenic areas introduction,museum/ Scien-tech museum introduction etc.
7. It can connect to internet,website browse,get info,query peripheral info,convenient service for people etc.
8. Extensive functions(other practical applications can be explored again accoding to your needs) to meet application needs for different industries.
SMART TOUCH TABLE
10-point touch
dust and water proof
anti-interfernce
smart HD
3C verification
HD DISPLAY
1920*1080 resolution, HD display, rich colors, exquisite picture quality,
real and clear to present every detail
PURE FLAT SURFACE DESIGN
Pure planar grooveless design, easy to clean, simple and beautiful, clean and convenient, desktop items or wanter droplets will not affect the operational sensitivity.
STEREO SOUND EFFECT
Dual coaxial speakers with dynamic high-quality sound effects compare to HIFI quality.
HOME USE TEA TABLE
Put items on it, interactive with children for studying, drawing, playing chess, richer and more harmonious home life.
COMMERCIAL TEA TABLE, REPLACE TRADITIONAL TABLE
Make business more vivid and efficient, simple and generous design, fluent interaction between human and machine, vivid display make bussiness communition less effort but better effect.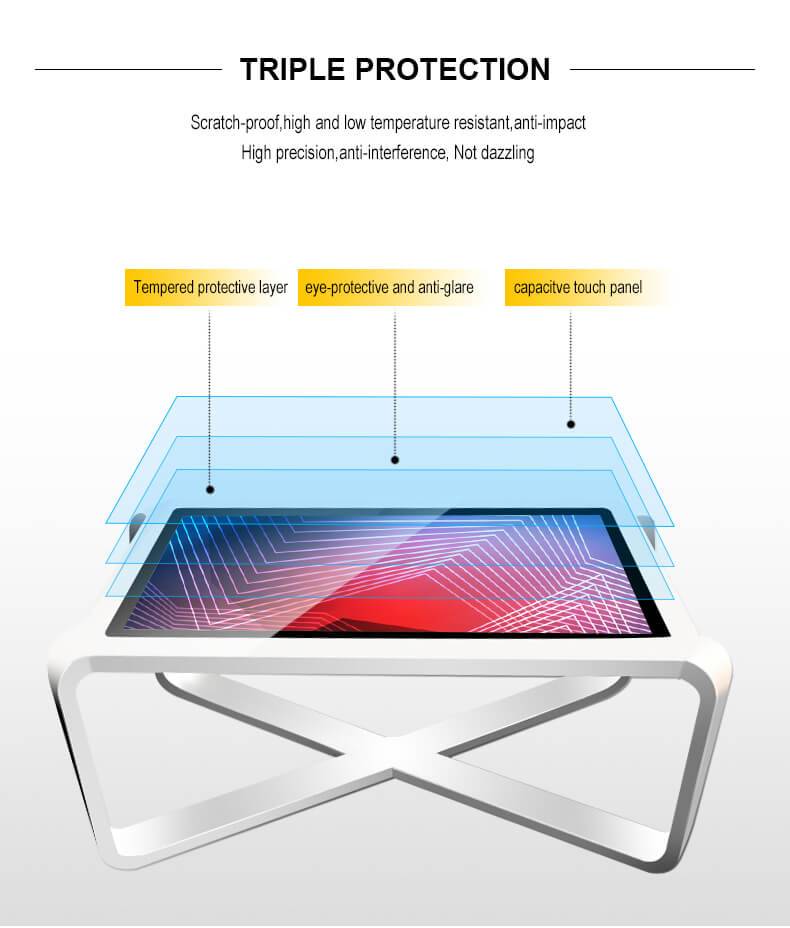 TRIPLE PROTECTION
Scratch-proof, high and low temperature resistant, anti-ompact
High precision, anti-interference, not dazzing
Tempered protective layer; Eye-protective and anti-glare; Capacitive touch panel
configuration parameters
Refined select hardware configuration,ensure clients good experience and enjoy the convenience via scien-tech products
LCD panel

resolution

1920*1080

screen ratio

16:09

contrast ratio

1000:1

viewing angle

≥178°

brightness

350cd/m²

responding time

3ms

Brand new A+grade 4K LCD panel,fullscreen display,no black border in the display area,no blind area

Capacitive touch panel

touch resolution

4096*4096

touch points

Trure 10-point touch

responding time

<5ms

Transmittance

>90%±5%

surface hardness

7H

Touch lifespan

more than 300,000,000 times

Viberation frequency

12MHZ

Control types

PCBA control board

Use ≤5mm anti-explosion all tempered glass panel for the touch writing surface,anti-scratch and anti-shock and anti-glare

PC option 1

Android RK3288 4+16

PC option 2

Android RK3288 4+16

PC option 3

I5 4G RAM 128G ssd

PC option 4

I7 8G RAM  256G ssd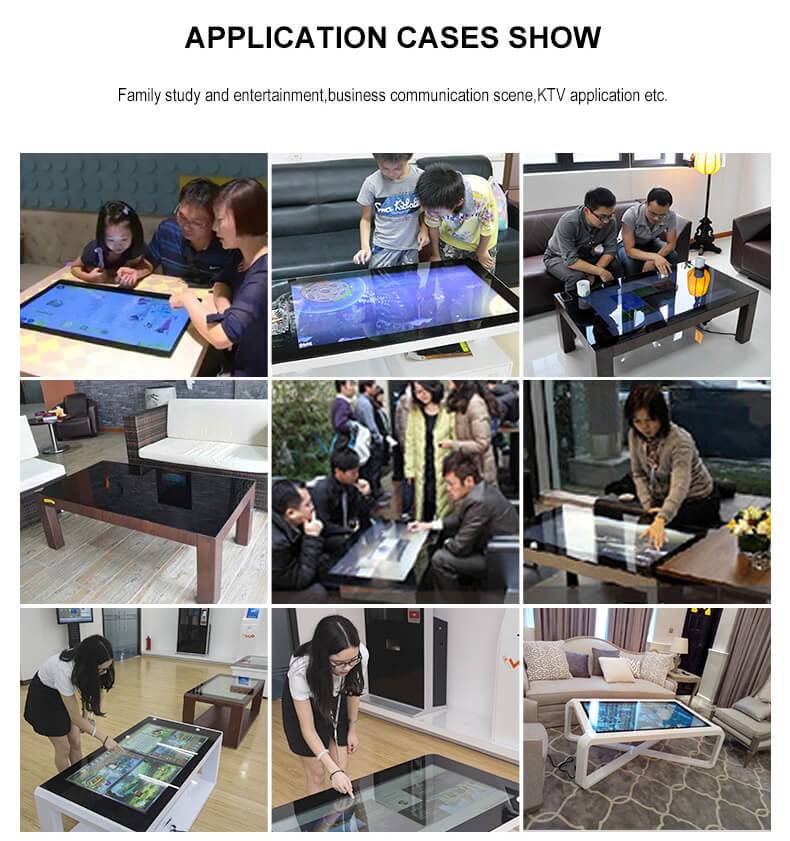 ---
Previous:
Smart touch query kiosk
Next:
Smart touch table
---